The "Big Dog" players in the mortgage industry KNOW they don't stand a chance against you in a fair fight.
First you've got the big lenders who know they can't possibly beat your rates or the kid-glove service you give your customers...
So instead they just crush you under an avalanche of advertising.
Then there's the mortgage "lead mills"...
These vultures use their endless marketing budgets to snare customers searching the internet for YOU...
Then turn around and sell those STOLEN leads right back to you - and the 17 other LOs in your neighborhood.
Skip Dyer is fighting back.
The loan officer from Cary, North Carolina was sick of paying through the nose for advertising on the radio and Google... only to get a disappointing number of leads from his marketing month after month.
Then Skip had a breakthrough.
He discovered a technique the mortgage behemoths wanted to keep under wraps...
That allows these mortgage giants to collect 2x-4x more leads without spending a SINGLE PENNY more on advertising.
He made a few simple changes to his website to put this "secret weapon" technique to work for HIM...
And overnight his marketing started sending him TWICE as many mortgage leads - from the exact same advertising budget.
Larry Alexander, a mortgage originator from Omaha, Nebraska tried this approach too.
And even with Larry's modest advertising budget - most of his clients come from referrals - he saw an IMMEDIATE jump in leads when he applied this technique.
And better yet... These leads aren't tired and grumpy from being hounded by other mortgage officers.
They answer Larry's calls eagerly. They appreciate Larry's honesty and commitment to top-drawer customer service.
And they CLOSE. Most months, Larry's writing

15-20%

more business than he did before with no other changes.
Now more than 200 other mortgage originators have jumped on board.
They're using this same technique to collect 30,000+ qualified, high-converting leads each month...
And with the ALL NEW Funnels 2.0 software by leadPops, you can too.
leadPops makes it no-brainer easy to make these same lead-doubling tweaks on YOUR marketing.
It works no matter where you get your leads from today - referrals, Google, postcards, print ads... (you don't even need a website.)
It takes less than 15 minutes, even if you have NO technical background.
And its 100% risk free and guaranteed.
So:
If you're sick of the unscrupulous mortgage lead companies luring your customers away...
If you're tired of dumping money into marketing that always disappoints...
If you're fed up with hearing "No thanks, I was just checking out rates"...
Here's your chance to finally DO something about it.
Just click the button below and start taking back control of YOUR leads.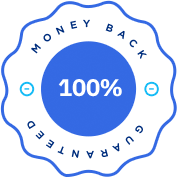 My 1-Year
"Get Results Or Pay Nothing" 100% Money-Back Guarantee
Here's my simple, iron-clad

5-part

pledge to you:
IF you're a full-time LO who is actively marketing your mortgage business (such as spending even just a couple hundred a month on advertising, or actively marketing your database, or even just seeking out and building referral partnerships)… and…
IF you're willing to try leadPops in your business for the next 12 months…
THEN my team and I will come alongside you to break through any sticking points you have with your marketing…
AND I 100% guarantee that you will generate enough new leads to earn back your full investment in leadPops…
OR I'll return every last penny of your money.
That's right—you get
guaranteed results or your money back.
That's practically unheard of in the marketing world.
Now you'll notice I've included a couple of conditions in our guarantee. But they're not there so I can "weasel out" of this agreement.
Actually they add an extra layer of protection for you.
Here's what I mean:
The last thing I want is for a part-time LO with NO marketing plan and NO goals for their business to sign up for leadPops because they think it's some kind of "easy button" or "if you build it, they will come" solution—and then be disappointed later.
When you sign up to test drive leadPops today, my team and I will carefully review your account over the next 30 days…
And if we determine that leadPops isn't a good investment for your business right now—
I'll let you know that straight up so you can invest your money in a way that makes sense for your business.
There's literally NO risk for you here.
If you use leadPops for 12 months you WILL get more leads (and close more loans)—guaranteed.



Larry Alexander
Owner,
Great Plains Mortgage, Co.

Best investment we have made in many years. Since implementing leadPops Funnels on our website, we've received 106 leads. Out of those leads, we've contacted 87 of them and closed 23, resulting in over $85,000 in commission checks. Needless to say, I am very happy with the results we have received from leadPops.


Nikki Wood
Director of Sales & Marketing, Titan Home Lending

Thank you so much, leadPops! We've had 3 leads come in this weekend... 2 warm and 1 hot! :) I'm so excited to have you guys on my team! I have been nothing but impressed by how professional and knowledgeable your company has been. Thanks again and have a great day!


Bill Burnett
President
Homestead Mortgage

I wanted to take a moment to thank you for all you do to help me grow my business. Your knowledge and expertise has helped me to engage with Realtors and establish new and better relationships. We have enjoyed a great synergy for a decade and I hope we continue for another. If there is ever an opportunity for me to refer anyone in need of your services, I assure you that I will pass your information on with the highest recommendations.


John Doan
Creative Director
Equinox Financial

Good news! It definitely looks like the investment has been good so far as conversions are up about 65% after 1 week compared to my old site. Only bad news is I have to manually enter 42 leads from over the weekend into my CRM since my integration hasn't been set up yet, but I guess that's a good problem to have :)


David Fingerhut
Owner
eLoan Rates

I'm so thankful that I found leadPops! Their unique lead capture forms have increased my conversion rate by 10% since I started using them. I'm now capturing over 20% month over month! Their custom back-end is easy to navigate and allows me to make my changes on the fly. Not only am I happy with the lead forms, but also their customer service has been first-rate.